You definitely need to create content for your medical website. But brainstorming healthcare blog topics can be tough. Everyone knows you can't build a strong online presence without a blog. And that a well-written blog helps you connect with your target audience by providing healthcare information they want and need.
But publishing valuable, interesting medical posts on a regular basis is easier said than done. Is your scheduling calendar empty? Are you scrambling to write anything, just to have something?
When you've hit a writing wall, here are 10 tips for brainstorming public health blog topics.
1. Interview an expert medical professionals
An interview with a healthcare expert could be focused on a healthcare topic. Or it could profile a day-in-the-life of the person being interviewed. Explore your network of medical professionals. Want to find someone comfortable with sharing their knowledge or story? Check Facebook, Instagram, or TikTok for people in the medical field who post their own content regularly. You just might find a big personality—like Tony Adkins, Pediatric Neurosurgery PA-C.
2. Get (and give) the latest medical Info
New studies, discoveries, and drugs are reported each day. Usually, a news article will offer a surface explanation of what's happening. Use a blog post to take a deep dive into the details with your reader in mind. Could this new discovery provide an alternative treatment for a medical condition they have? Does it help them manage their condition better? Humanizing the news makes for a great health care post.
3. Reuse and recycle your content
Do you have a podcast, or does your company sponsor one? Try summarizing a podcast episode into a story-driven blog post. Repurposing existing content and sharing it across channels is a great way to get extra mileage. While you're at it, a well-versed medical writer could break up your blog post into a Twitter thread that can help point people back to your website.
4. Target On-trend medical posts
Devote a blog post to a topic that's trending. How do you make sure you're in the know? Try Google Trends. You can explore what the world is searching for, literally. Let's say you type in "health." Google Trends will show you the interest in this search term over time, interest by region, related topics, and related queries. It's a great brainstorming tool to search for healthcare blog ideas.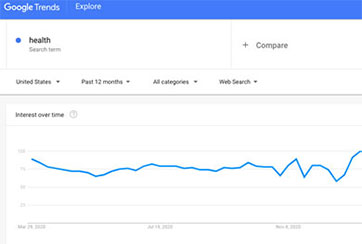 5. Collaborate with professionals & Be a guest
Hiring a guest blogger can add interest and authority to your healthcare blog. But sometimes, you might run into this problem—medical professionals that are highly knowledgeable in their field, but not able to write for a general audience. It makes sense to outsource guest blog posts to copywriters with medical backgrounds. They can write about healthcare topics accurately but in a way that connects with people. And that's the whole point of having a blog!
6. 'Tis the season!
Posts that line up with the seasons are a surefire way to stay relevant with your audience. A seasonal affective disorder post in the winter. Allergies in the spring. Skin protection in the summer. Colds and flu in the fall. It's easy to write about something most people (and maybe even you) are currently experiencing. The Weather Network is a great example of this—they even have a "Seasonal" section within their overall news page.
7. Write about common medical conditions
If a medical condition is common, it means a large portion of the population needs information about it. That also means a lot will have been written about these conditions already. Can you come up with writing a medical condition from a different angle? What about a Q&A with a patient? Helping people relate to others can set your post apart from purely factual or scientific ones.
8. Look for literary inspiration
Are you reading an interesting health-related book? Perhaps there's a chapter title that stood out. You can use it as inspiration for a blog post. Even a review of the book itself could appeal to your readers—book clubs are popular for a reason! If it's not specifically health-related, is there a life hack or words of wisdom that apply? The excerpt you base your post on could help people with a range of issues, like coping with an illness, supporting caregivers, or reducing stress.
9. Check Quora for frequently asked questions
What is Quora? According to its website, Quora is a place to gain and share knowledge, a platform to ask questions and connect with people who contribute unique insights and quality answers. When you search for a term, like "medical writing" for example, any question that contains that term will appear in a list. The answers people have contributed can be found under each question. Searching Quora can help you brainstorm healthcare content topics. See what people are asking, and respond in the form of your blog post!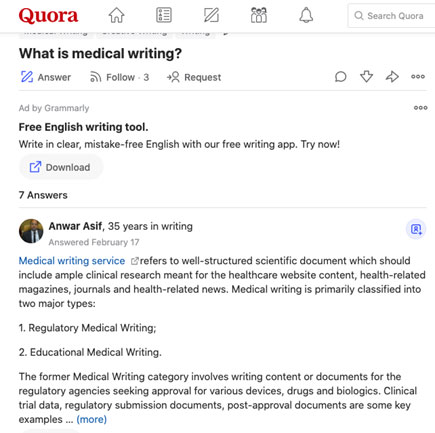 10. Dig through the comments
The comments section might be where trolls hang out, but it can also be a great place to find blog post topics. Where to start? Look at existing blogs in your industry. What did people think of those articles? Social media platforms also boast large comments sections. Look for common themes or frequently asked questions. Mining the comments section is like having eyes and ears on the ground. What is the average person thinking or asking about? You might end up with more ideas than you need!
If you need help developing or writing articles on healthcare blog topics, our team of doctorate-level and MD writers can help! Contact us at The Med Writers.