Medical Manuscript writing can be overwhelming, but there are some tried-and-true techniques and creative tips that can dramatically simplify the process.
We mined the literature for strategies plus revealed some tricks from our seasoned writers to help you get your manuscript written and published.
In this document, we focused our attention on manuscripts since they are one of the most common types of medical writing. However, these are techniques that can be useful for any medical writing project.
What is good medical manuscript writing?
When you're writing for a scientific audience it's important to write with three C's in mind:
Clear: Don't be ambiguous or leave anything to the imagination.
Concise: Use brief, simple language and avoid repetition/redundancy.
Correct: Be accurate, and don't overstate the significance of your results.
Good medical writing is never more complicated than it needs to be.
Make it easy for your audience by keeping your language clear and simple.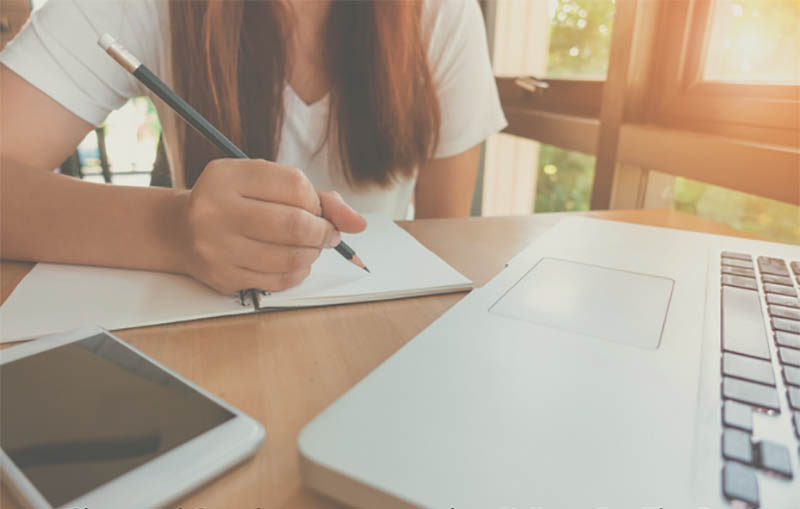 How is medical writing different?
Many people want to know how writing healthcare blog topics is different from other types of writing. The answer is simple: it isn't.
Good writing has a goal and a target audience and they will influence how you write, regardless of what you're writing. A good manuscript is rooted in a good story.
Even data-driven medical texts can be delivered in an engaging way. Most of us can think of examples of stand-out papers in our field of expertise.
At their best these papers are entertaining and thought-provoking even while they deliver complicated, data-heavy material.
Make an Outline for your Manuscript
Before you start writing you need to have a clear understanding of the type and scope of your writing.
For example, consider exactly what you are writing. Is it a case study, textbook chapter, or literature review? These distinctions have important implications for how you craft and present your material.
An outline should be an obvious place to start, but you'd be surprised at how often this step is skipped.
How to structure your medial manuscript outline
When possible, before you start your outline you should understand the formatting requirements for your targeted publisher.
Many publishers specify abstract headings and have specific requirements for what can (and can't) be included in the body of your text.
Use the outline as a way to narrow down the research you'll need to do as you write.
Abstract
It is an unfortunate fact of life: the abstract is often the only portion of a paper that ever gets read. For this reason, your abstract needs to convey the most important points from your paper in 300 words or less. Note what these points are in your abstract.
Make sure you know what your publisher expects from your abstract. Some journals limit you to 150 words or require that you arrange your abstract using specific headers.
You may need to include an objective or a statement of impact as well.
Keywords
Most publishers ask authors to provide some keywords. Think about the keywords you'd use to search for your paper and write them down.
Keywords that are more general will increase the number of search results your paper will appear in. For example, use "spinal cord stimulation" instead of "neuromodulation."
Define your goal
Is your goal to present new research data or to provide a meta-analysis of existing data? By clarifying the goal of your manuscript you can streamline preparation and writing.
Defining the goal is one of the secrets of successful grants and manuscripts of top biomedical PIs. Having a well-defined goal will also help you find the most appropriate publisher.
Keep your target audience in mind as you define your goal.
Introduction/background
The outline for your intro should note the current state of the field and identify knowledge gaps.
A good way to understand how to arrange your intro is by looking at similar papers that have been published by your target journal.
A standard approach to an intro can be broken down as follows:
First paragraph:
Current knowledge and foundational referencesYou're paving the way for your readers to understand your objective
Second paragraph:
Introduce your specific topic and identify knowledge gaps
Third paragraph:
Clearly identify your aim
Key references and identifying your hypothesis and aim(s).
Methods
Briefly list your methods and timeframe, but don't get too detailed. This is just an outline.
Results
The results section can be the most challenging to organize.
To simplify the writing process, state your overall question and create subsections for each dataset.
List the experiments you did and your results.
In your outline, identify data that should be presented in a figure or table.
Save any subjective interpretations for the discussion section.
Discussion
Your outline for the discussion should pick up where the introduction left off.
For example, if your intro ends with an aim, your discussion should start by restating your aim and reminding your readers of the knowledge gap(s) that you are addressing.
Your discussion needs to address each set of experiments and your interpretation, but don't simply restate your results section.
Timeline
Make a timeline for your manuscript and specify a submission date to help keep you on track.
Questions to consider when making your discussion outline include:
How do your data relate to your original question?
Do they support your hypothesis?
Are your results consistent with what other researchers have found?
If you had unexpected results, is there an explanation for them?
Can your data be interpreted in another way

Consider your data from the perspective of a competitor. Can you punch holes in your argument?
Address potential concerns about your data head on. Don't try to hide them or gloss over them.
If you weren't able to fully address your question(s) or aim(s), what else do you need to do?
How do your data fit into the big picture?
Include a discussion subsection for each of your results subsections where you can subjectively interpret your data. Your outline should include the points you want to make in each subsection as well as your overall goal.
Conclude your discussion with a one sentence summary of your conclusion and its relevance to the field.
Again, don't forget to write to your target audience!
Additional Resources for Medical Writing
Templates for Building a Perfect Writing Plan:
Know the Literature Before You Write Anything
An effective medical or scientific manuscript provides compelling information that builds on the existing literature and advances what is currently known.
This means you need to have a thorough understanding of the relevant literature!
Your goal is to collect all relevant references into a structured document. Make note of the aim and conclusion of each reference. Use this as a foundation to refer back to when you're writing your paper.
Organize your research into buckets.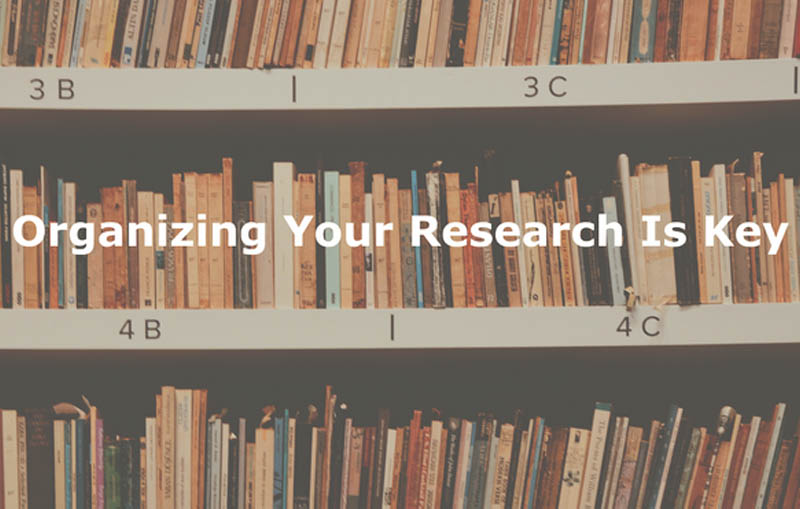 When you find a relevant source, ask yourself:
Are the data consistent with what's already known?
If not: why are they different and how do they affect what's known?
Do your data support or refute the data presented in the source?
You'll need to explicitly address inconsistencies and identify potential resolutions.
Find Scholarly Sources
If you are writing an original research article, how do your data fit into the broader topic?
Google searches don't usually produce scholarly resources unless you know where to look.
There are numerous FREE and Paid online resources available to find the right sources.
Top Scholarly Databases for journals, news, and articles
These tools can be used to find all the reputable sources needed to flesh out quality medical writing.
PubMed (MEDLINE):

PUBMED is an extremely popular and free search engine hosted by the NIH (National institutes of Health and U.S. National Library of Medicine. It can be used to access a vast index of peer-reviewed biological and medical research.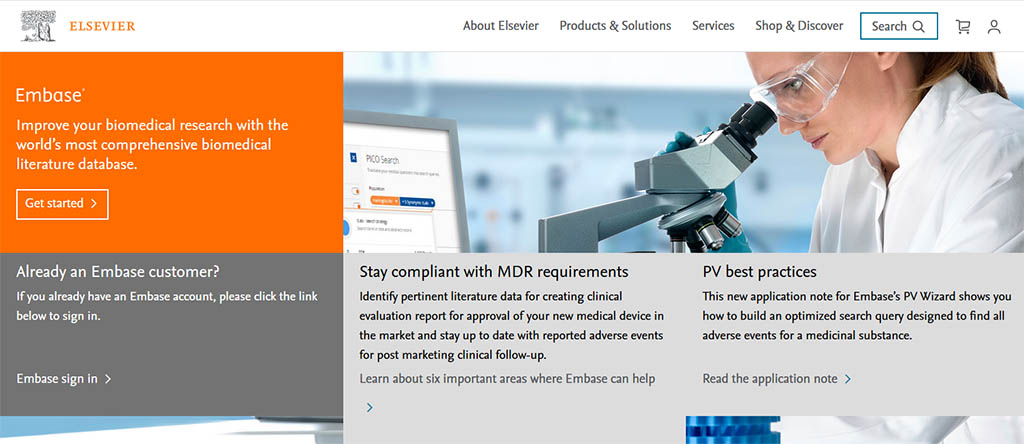 EMBASE is a database of literature intended to aid in organizational adherence to prescription drug regulations. Whereas it does contain some references that are not returned by PUBMED, there is a subscription fee associated with EMBASE.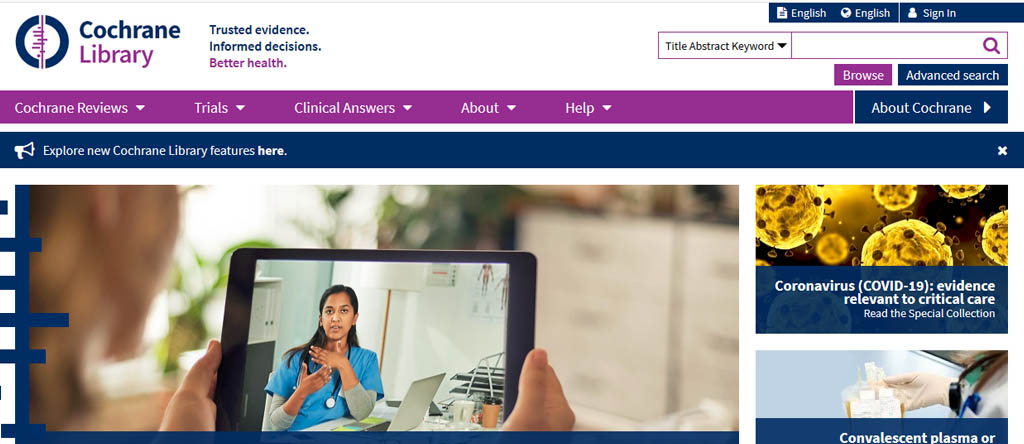 The Cochrane Library is a curated database of medical research reviews, protocols, and editorials. While a subscription is required, the Cochrane is a critical resource for evidence-based medicine.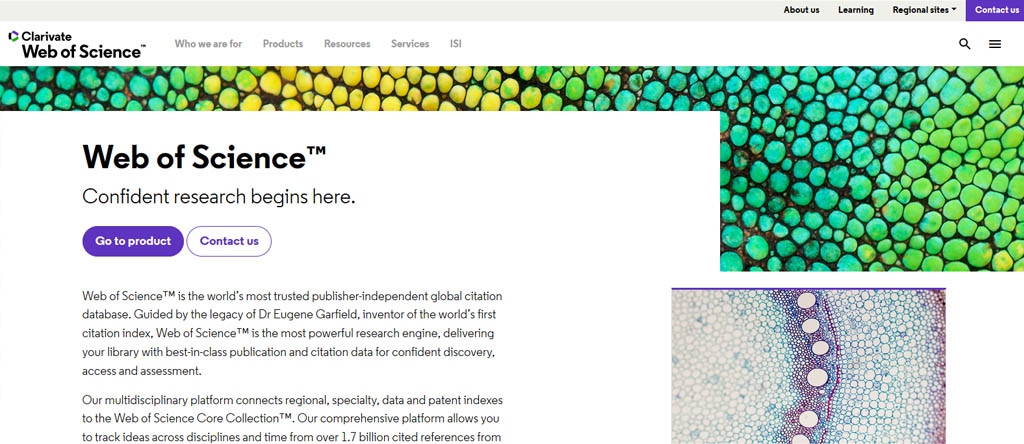 The Web of Science is another subscription service similar to those that have already been mentioned, albeit with an expanded range of academic disciplines including the arts, social sciences, and others.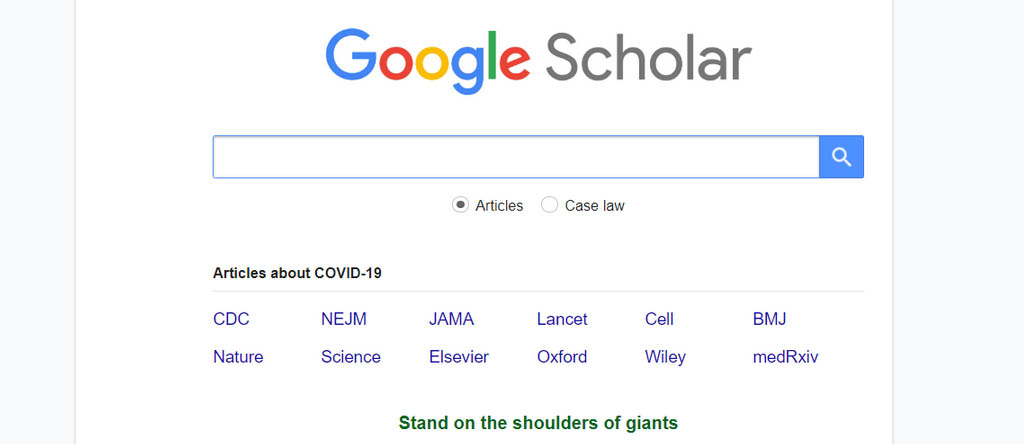 Google Scholar leverages Google's powerful search engine to retrieve published literature from the whole internet (rather than just biomedical journals). This means you'll get textbooks, theses, conference proceedings, and other publications that won't show up in PubMed or EMBASE searches. Google Scholar is a powerful tool but it lacks the curation of other search tools, so a careful vetting of any information from this source is important.
Other databases:
Faculty of 1000 (F1000) offers Faculty Opinions and F1000Research. Faculty Opinions are links to recommended life-science articles, while F1000Research is a database of open-source research papers and results.
EBSCO is an online library providing a wide range of services, including its research databases that allow powerful searches of journals in a variety of academic disciplines.
iSEEK Education:
iSeek Education is a search engine geared specifically for academics. The resources from iSeek are meant to be dependable and from reliable sources, such as government agencies and universities.
RefSeek:
RefSeek is another popular option for academically oriented search engines. RefSeek is designed to pull results from a large number of sources but not commercial links.
Virtual LRC:
The Virtual Learning Resources Center is a modified Google search of academic information websites. Its index of websites has been chosen by qualified curators.
More journal databases for medical research
Organize Your References:
One other point on knowing the literature: find a strategy that helps you keep references organized.
If you've ever written a paper and couldn't remember where on earth you saw that one, perfect reference you know how important this is!
Rather than putting things into a long word document start with a research template.
RESOURCE: Use our FREE research template to collect sources for your manuscript
You can also download free basic software to organize references.
5 Reference Organization Tools and Software
EndNote is the most popular reference organization tool for medical writers.
A basic version of EndNote is available for free, but paid subscriptions offer more options.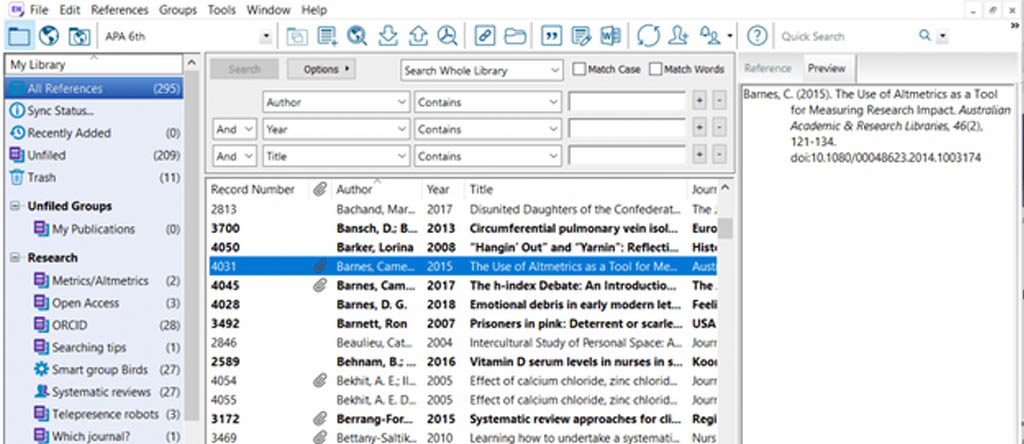 EndNote features include:
Import, annotate, and search PDFs

Ability to store reference libraries online, so you can access them from anywhere

Collaboration is easy with shared libraries

EndNote provides the most comprehensive citation style database, or you can create custom citation styles

Easy to import/export references from databases using RIS, BibTex, and many other standard data schemes
One potential drawback of EndNote is that it's not compatible with Linux.
Zotero
Zotero is a free, open-source reference management and citation tool.
Features of Zotero include:
Import, annotate, and search PDFs
Save screenshots and annotate them within your citation library
Import and export references in many formats, including RIS, BibTeX and BibLateX, EndNote, RefWorks, and more
Supports over 30 languages
Zotero's online bibliography tool ZoteroBib lets you generate bibliographies without installing Zotero or creating an account
Drag-and-drop interface
Linux compatible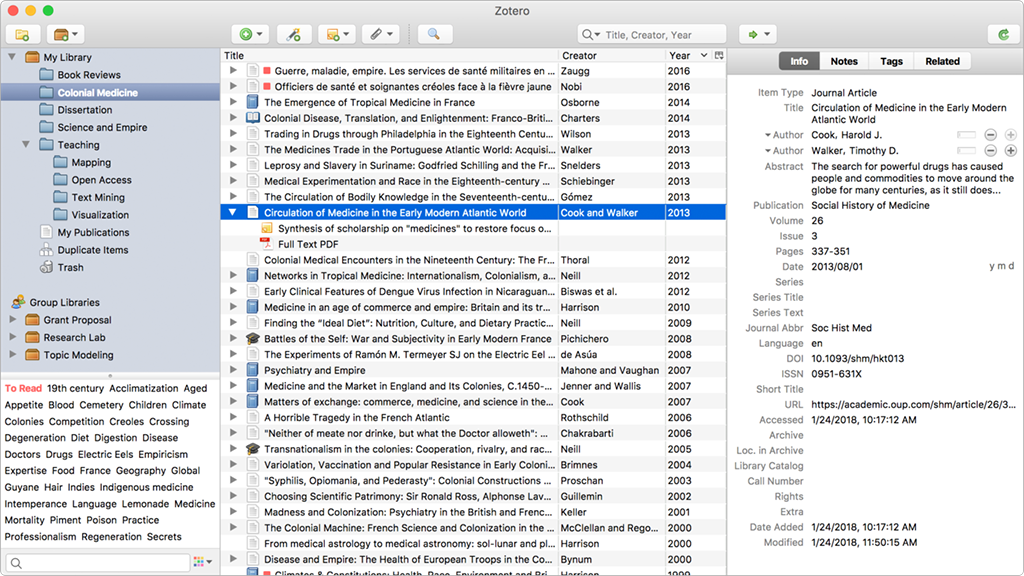 Mendeley
Mendeley is Elsevier's "freemium" referencing software, meaning the basic package is available for free but more sophisticated versions require a paid subscription.
Features of Mendeley include:
Import, annotate, and search PDFs
Extract metadata from PDFs
Create private, shareable libraries
Linux compatible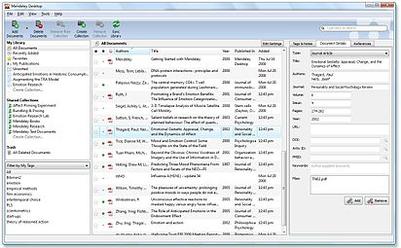 A free online reference tool, Citefast allows users to quickly generate a library in APA 6 or 7, MLA 7 or 8, or Chicago styles.
Citefast doesn't require you to make an account, but if you don't create one your references will be lost after 4 days of inactivity.
Another free online resource, BibMe lets you import references and offers MLA, APA, Chicago, and Turabian formatting styles.
BibMe can also check your spelling and grammar, as well as look for plagiarism.
List of MORE Online Software Tools for Academic and Medical Research
30+ research tools to make your life easier
5 best tools for academic research
31 Best Online Tools for Research
10 great tools for online research
Know your audience
It's important to know your audience before you start writing. This will help you define your goals and create an outline.
For example, if you're preparing a case study for specialists your manuscript will be different than one for a multidisciplinary audience.
Ask yourself what your message is and find out how it aligns with the goals of your readers to maximize your paper's impact.
Formatting requirements
Whenever possible, find out the formatting requirements you'll need to follow before you start writing. They will explicitly state the layout, word limits, figure/table formatting, use of abbreviations, and which reference style to use.
If you're writing for a journal their website will have a Guide for Authors that specifies formatting. If you're not sure what the requirements are, you should contact the editor or publisher and ask them.
Types of medical manuscripts
Knowing what kind of manuscript you're writing will help you organize your material and identify which information you should present. In addition, many publishers have different formatting requirements for different types of articles.
Although each publisher has their own guidelines for authors, many journals encourage authors to follow reporting guidelines from the EQUATOR Network (Enhancing the QUAlity and Transparency Of health Research).
Original research
The goal of an original research article is to convey your research findings to an audience. These articles typically follow the same structure:
Abstract
Introduction
Methods & Materials
Results
Discussion
Conclusion
Examples of great original medical research manuscripts:
Examples of great medical journal publications from The Med Writers:

Rapid communications
Rapid (or brief) communications are aimed at publishing highly impactful preliminary findings.
They are shorter than original research articles and focus on one specific result.
Many journals prioritize rapid communications, since they can provide paradigm-shifts in how we understand a particular topic.

5 Examples of Rapid Communications

Case reports
Case reports detail interesting clinical cases that provide new insight into an area of research.
These are brief reports that chronicle a case, from initial presentation to prognosis (if known).
Importantly, when writing a case report, you need to clearly identify what makes your case unique and why it's important.

5 Examples of Great Case Studies
Literature review
A good literature review provides a comprehensive overview of current literature in a new way. There are four basic types of literature review:
Traditional:
Also known as narrative reviews, these reviews deliver a thorough synopsis of a body of literature. They may be used to highlight unanswered questions or knowledge gaps.
Li X, Geng M, Peng Y, Meng L, Lu S. Molecular immune pathogenesis and diagnosis of COVID-19. J Pharm Anal. 2020 Mar 5.
Wardhan R, Kantamneni S. The Challenges of Ultrasound-guided Thoracic Paravertebral Blocks in Rib Fracture Patients. Cureus. 2020 Apr 10;12(4):e7626.
Lakhan, S.E., Vieira, K.F. Nutritional therapies for mental disorders. Nutr J 7, 2 (2008). https://doi.org/10.1186/1475-2891-7-2
A minireview is similar to a review, but confines itself to a specific subtopic:
Marra A, Viale G, Curigliano G. Recent advances in triple negative breast cancer: the immunotherapy era. BMC Med. 2019 May 9;17(1):90.
Systematic:
These are rigorous, highly structured reviews that are often used to shed light on a specific research question. They are often combined with a meta-analysis or meta-synthesis.
Asadi-Pooya AA, Simani L. Central nervous system manifestations of COVID-19: A systematic review. J Neurol Sci. 2020 Apr 11;413:116832.
Katsanos K, Spiliopoulos S, Kitrou P, Krokidis M, Karnabatidis D. Risk of Death Following Application of Paclitaxel-Coated Balloons and Stents in the Femoropopliteal Artery of the Leg: A Systematic Review and Meta-Analysis of Randomized Controlled Trials. J Am Heart Assoc. 2018 Dec 18;7(24):e011245.
Meta-analysis:
A meta-analysis analyzes data from multiple published studies using a standardized statistical approach. These reviews can help identify trends, patterns, and new conclusions.
Zhang J, Zhang X, Meng Y, Chen Y. Contrast-enhanced ultrasound for the differential diagnosis of thyroid nodules: An updated meta-analysis with comprehensive heterogeneity analysis. PLoS One. 2020 Apr 20;15(4):e0231775.
Meta-synthesis: A meta-synthesis is a qualitative (non-statistical) way to evaluate and analyze findings from several published studies.
Stuart R, Akther SF, Machin K, et al. Carers' experiences of involuntary admission under mental health legislation: systematic review and qualitative meta-synthesis. BJPsych Open. 2020 Feb 11;6(2):e19.
Writing
At this point you've established three things for your manuscript:
Your goal: Is your goal to convey the latest research? You should find a way to describe what you want to accomplish with this article.
Your target audience: The most effective medical writing is done with a specific audience in mind.
Type of manuscript: The type of article you're writing will influence the format of the document you are writing.
You probably have a target journal or publisher in mind and you should have checked out their formatting requirements. Now it's time to start writing!
Notably, many seasoned authors don't write their articles from beginning to end. For example, if you're preparing an original research manuscript they suggest writing the methods section first, followed by the results, discussion, introduction, and, lastly, the abstract. This will help you stay within the scope of the article.
Title
Generally, the title for a medical document should be as succinct as possible while conveying the purpose of the article.
If you're writing an original research article your title should convey your main finding as simply as possible.
Avoid using unnecessary jargon and ambiguity.
Some authors recommend including keywords that will help people find your writing in the title.
Abstract
Your publisher may have a specific abstract format for you to follow. There are three general types of abstract:
Indicative (descriptive) abstracts provide a clear overview of the topics covered. They are common in review articles and conference reports.
Informative abstracts summarize the article based on structure (e.g. problem, methods, case studies/results, conclusions) but without headings.
Structured abstracts use headings as specified by the publisher.
Good abstracts are clear, honest, brief, and specific. They also need to hook readers or your article will never be read (no pressure!).
Keywords
Many publishers will ask you to come up with some keywords for your article. Make sure they're specific and clearly represent the topic of your article.
If you're not sure about your keywords the National Library of Medicine's Medical Subject Headings (MeSH) website can help. Just type in a term and it will bring up associated subject headings and definitions.
Introduction
The goal of the introduction is to briefly provide context for your work and convince readers that it's important. It is not a history lesson or a place to wax poetic about your love of medicine (unless you're writing about history or your love of medicine). Everything in your introduction needs to be directly relevant to the overall goal of your manuscript.
Introductions vary in length and style between the different types of manuscript. The best way to understand what your publisher is looking for in an introduction is to read several examples from articles that are stylistically similar to yours.
Broadly speaking, an introduction needs to clearly identify the topic and the scope of the article. For an original research article this means you explicitly state the question you're addressing and your proposed solution. For a literature review, the topic and its parameters should be stated.
Importantly, don't mix the introduction with other sections. Methods and results don't belong in the introduction.
Abbreviations
If you use terms that are abbreviated, some journals will ask you to include a section after the introduction where you define them. Consult the authors guide to learn how you should handle abbreviations. Also check to see if they have standard abbreviations that you don't need to define in your manuscript.
A couple of tips for abbreviations:
· Terms that are only used once or twice should be spelled out, not abbreviated
· Don't capitalize each word in an acronym unless it's a proper noun (e.g. ubiquitin proteasome system (UPS), not Ubiquitin Proteasome System (UPS))
Methods & Materials
A good methods section will contain enough information that another researcher could reproduce the work. Clearly state your experimental design, what you did in chronological order, including equipment model numbers and specific settings you used. Make sure to include all equipment, materials, and products you used as they could account for future variability. Describe any statistical analyses.
The methods section should describe the following:
· Population and sampling methods
· Equipment and materials
· Procedures
· Time frame (if relevant)
· Analysis plan
· Approaches to ensure reliability/validity
· Any assumptions you used
· Scope and limitations
If you are using methods that have been described before you can refer to that publication or include them in your supplementary material, rather than re-writing them in the body of your text.
Results
The results section is where your findings are objectively presented (save your interpretation of the results for the discussion section). Figure out which data are important for your story before you write the results section. For each important data set provide the results (preferably in a table or graph) and include a sentence or two that summarizes the results.
It's easy to lose sight of the goal of the paper when you're relaying numbers through the lens of statistics. Make sure to tie your results back to the biological aspects of your paper.
Discussion
The discussion section is where you sell your interpretation of the data. Your discussion section needs to tie your introduction and your results sections together. A common strategy for the discussion section is to reiterate your main findings in light of the knowledge gaps you outlined in your introduction. How do your findings move the field forward?
Consider each of your results with respect to your original question and hypothesis. If there are multiple ways to interpret your data, discuss each of them. If your findings were not in line with your hypothesis, state this and provide possible explanations.
If your data are inconsistent with other published literature it's important to consider technical and experimental differences before concluding that you've stumbled onto a groundbreaking medical discovery. Discuss all potential reasons for the divergent data.
Key points to include in your discussion section:
· What your results mean
· Whether your methods were successful
· How findings relate to other studies
· Limitations of your study
· How your work advances the field
· Applications
· Future directions
Don't draw grand conclusions that aren't supported by your data; some speculating is okay but don't exaggerate the importance of your findings.
It's important to remind your reader of your overall question and hypothesis throughout the discussion section, while you are providing your interpretation of the results. This will ensure that you stay on track while you're writing and that your readers will understand exactly how your findings are relevant.
Conclusion
This is your final chance to convince your readers that your work is important.
Start your conclusion by restating your question and identify whether your findings support (or fail to support) your hypothesis.
Summarize your findings and discuss whether they agree with those of other researchers.
Finally, identify how your data advances the field and propose new or expanded ways of thinking about the question.
It's important to avoid making unsupported claims or over-emphasize the impact of your findings. Even if you think your findings will revolutionize medicine as we know it, refrain from making that claim until you have the evidence to back it up.
Figures/Tables
Many readers will get the bulk of their information from your figures so make sure they are clear and informative. Your readers should be able to identify your key findings from figures alone.
Tips for figures and tables:
· Don't repeat data in tables, figures and in the text
· Captions should sufficiently describe the figure so the reader could understand it even if the figure was absent
· Keep graphs simple! If a basic table will work there's no need for a multi-colored graph
Acknowledgements
Use the acknowledgments section to identify people who made your manuscript possible. Include advisors, proofreaders, and financial backers. In addition, identify funding sources including grant or reference numbers.
References
Make sure to use the reference style specified by your target journal or publisher. Avoid too many references, redundant references, excessive self-referencing, and referencing for the sake of referencing. Personal communications, unpublished observations, and submitted, unaccepted manuscripts should generally be avoided.
Ethics
It should go without saying that you need to be ethical when preparing medical manuscripts. Fabricating or falsifying data is never acceptable, and you put your career at risk. It's not worth it.
Plagiarism is not a viable strategy for getting works published. Any indication that you've plagiarized will be investigated, and if you're found to have plagiarized your career and scientific reputation are at stake. Any time you refer to published work you need to reference it, even if it was your own publication. Be very careful about self-plagiarizing!
To learn more about ethical writing take a look at the U.S. Department of Health and Human Services guide: Avoiding Plagiarism, Self-plagiarism, and Other Questionable Writing Practices: A Guide to Ethical Writing, by Dr. Miguel Roig.
Ethics standards require that you submit your manuscript to only one publisher at a time. If you're caught submitting to multiple editors none of them will publish your work.
Traps to avoid
Seasoned writers told us some of the pitfalls they've learned how to watch out for:
Writing versus editing
Writing and editing are not the same. Get comfortable writing, that is, pouring out all of your ideas without editing yourself. Then go back and edit.
Lack of editing
One of the toughest parts of writing is opening yourself up to critique. As hard as it can be, the best way to get a polished and meaningful manuscript is to have other people read it. As writers we can get attached to particular phrases or styles that may not read as well to other people.
Scientific manuscript editing is the toughest of any manuscript editing but if you keep patience and edit honestly it will get easier over time. Imagine that you're editing someone else's document to help give you fresh eyes. If possible give yourself a couple of days without looking at the manuscript, then go back and read it.
Being unfamiliar with the literature
It's important to be familiar with the current literature on the topic you're writing about. A fatal flaw of any research manuscript is proposing a hypothesis that has already been tested or posing questions that have already been answered.
Not formatting properly
If your manuscript is not formatted properly, it is less likely to be accepted. Make sure your font and line spacing are correct, that you've adhered to word and figure limits, and that your references are in the correct style.
Useful tips
Here are some helpful tips that you can use to improve your writing:
Framing your manuscript
A common trope in outlining manuscripts is the inverted triangle approach, which starts generally and ends specifically. A more useful method is to consider an hourglass-shaped outline, which starts generally, specifically addresses your contribution to the field, then ties your contribution back to current knowledge and unanswered questions.
Passive and active voice
Medical writing has long used passive voice to communicate and, while this is still the status quo for many journals, don't be afraid to get out of that mire. As journals begin to recognize that active voice is not only more economical but can also be more readable they are becoming more comfortable publishing articles that include active voice.
Don't edit while you write
Get a first draft onto paper as quickly as possible and then edit. Don't waste time trying to get a paragraph perfect the first time you write it.
Ask someone else to edit
Medical writing does have some unique challenges associated with it. Your audience may not be experts on the material you are delivering, so an ability to communicate complicated information in an accessible manner is very helpful. Improve on your skills by asking people outside of your field to provide constructive criticism on writing samples.
It can be a very useful practice to edit some manuscripts that other people have written. This will help you understand what editors are paying attention to.
Keep track of references
Make sure to keep detailed notes of where you got your references so that you can easily and accurately cite the literature you used. There's nothing more frustrating than not being able to remember where you saw a really great reference.
Before you submit your manuscript
Ideally, you've left yourself plenty of time to proofread and have other people edit your document. At the very least make sure you budget some hours to carefully proofread. Triple check that your paper adheres to formatting requirements. You can learn how to proofread scientific manuscripts before submitting them for publication.
Cover letters
If you're submitting an article for consideration you'll need to write a cover letter. Take the time to find out who the editor is and address your letter to him or her. This is your chance to communicate with the editor! A generic "To whom it may concern" won't impress anyone.
Your cover letter should be brief, but it needs to convey the value of your paper to the journal. Describe your main findings and their significance and why they're a great fit for your publication of interest.
If you have conflicts of interest, disclose them in your cover letter. Also, if your paper has already been rejected, let them know. Include the reason (if known) and reviewer comments, as well as discussing changes you've made to improve the paper.
You can also suggest peer-reviewers or people who shouldn't review your paper. Be cautious when suggesting reviewers! Some of the most critical reviews come from suggested reviewers.
Your cover letter is an excellent opportunity to prove that you know what the goals of the journal are and that your article furthers them. Don't waste it!
Reviewer comments/Revisions
If the publisher asks you to address reviewer comments, take the time to do this seriously and thoughtfully. Understand reviewer comments and address them objectively and scientifically (be polite!). If you disagree with a comment, state why and include supporting references. When more experiments or computations are requested, do them. It will make your paper stronger.
When you resubmit your manuscript make sure to identify page/line numbers where changes were made.
What if you're rejected?
Don't despair! Rejection happens to every writer. Try to understand why your manuscript was rejected. Evaluate your manuscript honestly and take the opportunity to learn from your mistakes.
A rejected paper isn't a dead paper. You'll need to make some substantial revisions and may need to change your formatting before resubmitting to a new journal or publisher. In the cover letter to the new editor you'll need to state that your manuscript was rejected. Include any information you got about why your manuscript was rejected and all reviewer comments. Identify changes you made to the paper and explain why you chose to submit to the new journal.
CONCLUSION
Medical writing can be very rewarding but it's important that writers have a clear understanding of what publishers are looking for. High-quality, original works that advance the medical field are much more likely to be published than papers that are not original or that have little medical or scientific interest.
Quality medical writing should have clarity, economy of language, and a consistent theme. It's important to always state the question or topic you're addressing early and refer to it often. This will help you stay focused and within the scope of your article during the writing process and it will help your readers understand your intentions. Using an outline is a very helpful way to make sure your article is consistently on-topic.
Following the tips and techniques provided here will definitely improve your writing skills, but the most effective way to get better at medical writing is to do it. There is no single best way to prepare a medical manuscript and even professional writers are continuously tweaking their writing strategies.
Hopefully these tips have helped you create a great manuscript. If you're feeling overwhelmed and want some help with your medical writing or editing, we at The Med Writers can help. Contact us to learn more about our writing and editing services.