The 5 healthcare SEO best practices are content, keywords, HTML, architecture and links. It sounds intimidating but we will break it down to show you what to do and what not to do.
"Those healthcare SEO best practices sound complicated. And too 'techy.' They will cost time and money. Our website is informative – I think that is good enough."
Think again.
Today, and every day, Google will process over 3.5 billion searches. The results that come back for each query are ranked, and not by accident.
There is a gatekeeper. You cannot engage with customers or patients without wooing the search engine first.
How do you create content for your audience AND Google? We'll guide you through everything you need to know about healthcare SEO best practices.
In this article we'll cover:
What SEO means for your healthcare business
3 reasons why you need healthcare SEO best practices
How not to use SEO in healthcare marketing
On-Page vs. Off-Page SEO
5 healthcare SEO best practices
What does SEO mean for your healthcare business, anyways?
Let's start from the top. What is SEO?
Search engine optimization (SEO) is a marketing strategy that increases the quality and quantity of traffic to your site by ranking high on the organic search engine results page (SERP). Organic means results that appear after the paid advertising listings.
In other words, SEO means you've optimized your content so that the search engine (almost always Google) includes it as a top result for keyword searches.
(If you're torn about whether or not your business even needs to offer online content, you need to watch this.)
Let's say someone needs health information and types "should diabetics take dietary supplements" into their search bar.
And you have created a blog post or article on this or a supplement product for diabetic patients. You want to be found, right? This is where the healthcare SEO best practices come to your rescue.
You want Google to scan through millions of web pages, read yours as relevant, and display it as one of the top results.
Why aim so high? It is basic math. The first five organic search results get 67% of all clicks, and the results from 6 to 10 get less than 4% of clicks.
And that is only on the first page! The second page of search results is where your unoptimized content goes to die.
You simply will not reach your audience if you do not implement healthcare SEO best practices. But let's dig deeper.
3 reasons why you need healthcare SEO best practices
We already know that an SEO strategy will get your site ranked higher in search results. But to understand the true value of investing in SEO, let's take a look at three of its biggest advantages.
1. SEO attracts quality traffic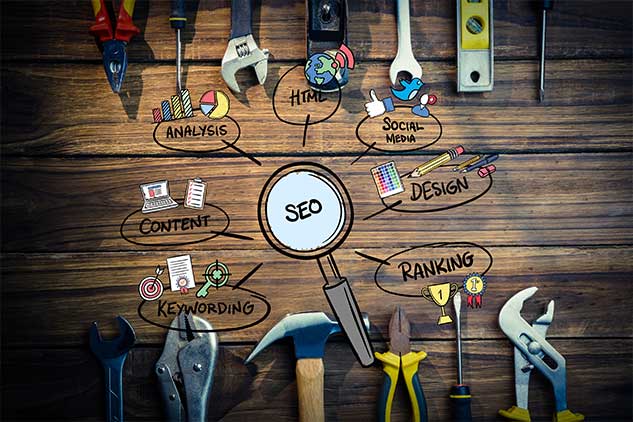 Outbound marketing involves cold calling, spam emails, and interruptive ads (think radio or TV advertising). If outbound marketing was an object, it would be a foghorn or loudspeaker.
It is the needle-in-the-haystack approach to finding consumers, centered on the advertiser's needs. It's about quantity, not quality.
Inbound marketing involves SEO and content. If inbound marketing was an object, it would be a magnet. Implementing healthcare SEO best practices turns your business into a magnet!
By creating useful and high-quality resources, and making those easy to find, your ideal consumer comes to you through their searches.
This approach also goes a long way in positioning your healthcare brand or product as reputable. Which company do you like better – the one that cold calls you during dinner or the one that appears on your screen when you asked it to?
2. SEO boosts conversion
Getting in front of your target audience while they are actively searching for healthcare information, services or products means your company will see higher conversions from leads to customers.
Conversion, or getting the visitor to do what you want them to do, could mean different things depending on your healthcare business model.
Here are some conversion examples:
Making a purchase
Booking an appointment
Referring someone to your business
Calling for more information
Close rate is the percentage of leads that turn into conversions. SEO makes a significant difference on this rate.
Need proof? SEO leads have a 14.6% close rate as opposed to outbound marketing's 1.7% close rate.
3. SEO competes for you
Nearly 75% of internet searchers start their search on Google, so you can be sure that your competitors are investing in an SEO strategy as part of their overall marketing plan.
Fight fire with fire by outranking and outperforming them. It sounds intimidating, but even getting the basics right can mean the difference between having a top online presence versus none at all.
How not to use SEO in your healthcare marketing
It is clear why you need SEO. Actually using it is easier said than done. You can fall down a rabbit hole researching every aspect of SEO. Thankfully for you, we have already done that so you do not have to.
Why can it be confusing? Google uses over 200 different ranking factors to find and deliver the most useful and relevant content to the searcher. You will not find this list posted anywhere online – apparently, it is their little secret.
And for good reason. There's something known as "black hat" SEO. It basically refers to people using scammy tricks to score points with Google's algorithm.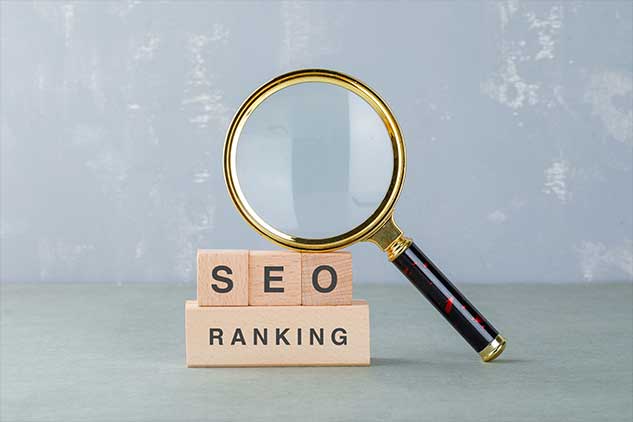 Tactics like keyword stuffing used to work back in the day, but the algorithm was new and easily fooled. It is all grown up now, and can spot keyword stuffing (or pages with duplicate content, sneaky redirects, etc.) from miles away.
In fact, Google will now penalize and even ban content that employs this type of SEO.
Google rewards content written for humans, not the algorithm. If someone offers to help your business rank up overnight, steer clear.
"White hat", or legitimate, SEO is a long game. If done correctly, seeing changes in rankings can take months to a year or more, though often we see changes in months.
Although Google's ranking factors are not made officially public, many of the factors are well-known. Focus on those as well as your audience, and you are well on your way to using SEO to your benefit.
On-Page SEO and Off-Page SEO
First of all, there are two categories of SEO: On-page and off-page.
On-page SEO relates to the actual page you are trying to optimize and how Google uses its ranking factors to evaluate elements of that page. It is everything you can do to your blog post to show Google's algorithm what it is about, like headlines and keywords.
Off-page SEO relies on other variables that Google weighs, like social media, other websites or blogs in your industry, and even the location of the searcher.
Let's discuss some tips and tricks for both on-page and off-page SEO.
5 healthcare SEO best practices
1. CONTENT
Content is the most important on-page factor, if not the most important factor overall. The other efforts do not mean much if you do not succeed at the writing part.
Google looks out for #1…which is Google. The powers that be are not trying to return well-matched search results because they want to help your healthcare business.
Google tries to make its searchers happy by delivering the exact answer to their question or the exact product they need to buy. It does this by finding the best content. So it is important to produce valuable content with the help of SEO-experienced medical writers for higher ranking in SERPs.
Here are some ways to generate great content:
Use good writers who are knowledgeable about the healthcare industry
Do not write about the exact same thing as your competitors; learn how to write content that ranks on Google.
If you are writing about a well-known topic, add a fresh or entertaining take on it
Provide brand new information never seen before, like a medical study or trial
Check content marketing strategy for healthcare that can take your content to the next level.
The key to good writing is sounding natural with your target audience in mind. Remember – write for people, not the search engine.
2. KEYWORDS
Keywords start every search. They are the actual words people type into search bars.
"Medical writer" is an example of a keyword.
If you want your site to show up on the search engine results page when someone searches for that keyword, it must appear on your site somewhere.
Keywords are like flares your content sends up to get noticed by the search engine.
Keywords tell Google what your page is about. Without them, Google cannot see or find your content.
You will likely have a main (primary) keyword plus some other (secondary) keywords to sprinkle throughout both your content and your site overall, anticipating the searches of your target audience.
Here are some tips to remember when choosing keywords:
Think about search intent vs. only the words people type into the search bar
Long-tail keywords (keywords that are 4 or more words long) can be just as or more useful than shorter ones
Do some actual keyword searches yourself before writing
Look at Google's suggested searches for that query
The bottom of the search engine results page will offer even more suggestions
Check out these sites to help with keyword selection:
3. HTML
You will want to incorporate your primary keyword into your title tag, meta description, and subheadings, which is not as scary as it sounds.
For example, the title of your blog post is your title tag. Your title tag is also what people see in the tab of their browser.
Let's use the keyword example "medical writer" again. A possible title using that keyword could be "Can your new medical writer be a liability?"
It's best to include your keyword in at least one of your subheadings, too.
A meta description summarizes the contents of your page for the benefit of searchers and search engines into a little snippet that appears under your headline on the search engine results page. You want your keyword to show up here!
Another place to add the keyword is in the actual URL. Like the meta description, the URL edits happen when you are actually posting content in WordPress, Squarespace, or whatever your website runs on.
One more trick with keywords – use the primary keyword in the first 100 words of your writing. Show the reader you have got what they need in the first few seconds – decreasing attention spans are real.
4. ARCHITECTURE
This is mainly something for your web designer to handle, but it is important to know about site architecture nonetheless. Creating a great user experience actually helps your Google rankings.
ConversionXL offers a how-to guide on getting the user experience right.
You want to think about these factors:
Clear navigation
Fast loading times
Mobile-friendly
5. LINKS
Links help to build your website's authority and credibility, which Google likes. The more you get other relevant healthcare sites linking back to yours (creating backlinks), the better.
How do you get other sites to point their readers to yours?
Blogs and articles are more shareable if they are useful and have a share link
Getting published in a medical journal adds high-level trust
Putting your content on social media channels like LinkedIn and Twitter makes it easy for others to share
Submit your company information and URL to as many relevant listings and directories as possible
Takeaways
With over 200 Google ranking factors, there is a lot to learn about healthcare SEO best practices. With the help of an SEO specialist, you can dig even deeper.
To get started, remember this:
Healthcare SEO best practices are essential if you want to get in front of your target audience affordably
SEO provides a significant return on investment that keeps your healthcare business competitive
Focus on creating top-quality content
When it comes to medical content, consider hiring an outside medical writing company. At The Med Writers, you get the best of both worlds – our copywriters also have hands-on work in medicine or science.
Our writers are skilled at using healthcare SEO best practices for content. We seamlessly incorporate keywords into every blog post, social media post, or white paper we create.
We will ask a few questions, then complete your project accurately and efficiently. Contact us for a quote!